GPR can be used for many applications. "Locating Buried Treasure" is the headline grabber, but more down-to-earth uses include the ability to accurately detect the depth of objects inside concrete structures, such as conduit, reinforcement bar, post tension cables, and voids found in decks, walls, and slabs. Other common uses include location of underground utilities, and highway construction verification.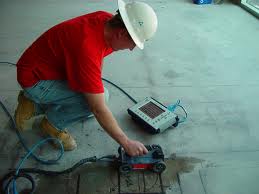 Concrete Inspection / Sub Surface Pipe Location
MQC Labs can conduct a real-time concrete inspection survey using ground penetrating radar (GPR) to locate rebar, pipe, tension bars, dowels, and plastic or fiber optic conduits. Our concrete inspection survey can also detect voids within and under concrete slabs.  Our radar survey professionals can conduct a concrete inspection survey of concrete block walls, concrete floors, concrete slabs, airport runways, tunnels, abutments, dams, and garages. Asphalt roads and surfaces can also be scanned. Concrete as thick as 12 to 18 inches can be scanned. The condition of concrete slabs can be inspected including relative thickness, deterioration, and structural problems.